Richard Piercy Bio: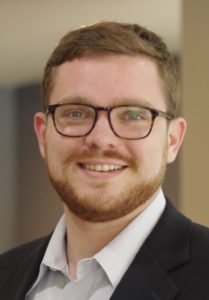 IP Lawyer Atlanta

Law School: Georgia State University, Juris Doctorate 2014
Undergraduate: University of Georgia, BS Biology 2008
Richard brings years of experience as Corporate IP Lawyer Atlanta at a cloud healthcare technology company and is an experienced intellectual property attorney who assists clients on various intellectual property matters.  Prior to joining the firm, Richard was Corporate Counsel at NueMD, a leading provider of Physician Practice Management and Electronic Health Records software. Richard counseled corporate executives regarding all legal matters and prepared, prosecuted, and obtained patents to protect their intellectual property rights. In addition to managing the growing IP portfolio, Richard's duties included HR and HIPAA compliance, M&A due diligence, dispute resolution, brand and reputation management, subsidiary formation, software and IP licensing, and business-to-business contracting. During law school, Richard was a patent examiner at the USPTO in Alexandria, Virginia and licensing specialist at the CDC in Atlanta, Georgia.
Experienced & Affordable
Patent Attorney Experience – Richard's patent prosecution experience as an Patent Lawyer includes preparing and prosecuting software, network architecture, healthcare IT, and consumer electronics patents before the USPTO. Richard registered trademarks to protect his clients' brands in a variety of classes of goods and services including apparel, home furnishings, cloud software, and medical billing. He examined a variety of biotechnology patent applications during his time at the USPTO as a patent examiner and licensed a variety of life-saving research and diagnostic technologies while working at the CDC. Richard is also qualified to prepare and negotiate licensing agreements as well as provide infringement analyses.
General Corporate Patent Attorney  – Nuesoft Technologies, Inc. (NueMD) leading provider of cloud software to physician practices and medical billing companies with an extensive patent portfolio. Counseled executive team regarding subsidiary formations, business contracts, state university RFPs, intellectual property rights, dispute resolution, HR and HIPAA compliance, sales and business support, M&A due diligence, and software licensing. Richard prepared US patent and trademark applications and managed outside counsel, including outside general counsel and outside patent counsel. In July 2018, NueMD was purchased by a private equity fund, resulting in more than 100x EBITDA  proceeds for investors.
Patent Lawyer Licensing Experience – Richard licensed many technologies through the Technology Transfer Office at the Centers for Disease Control and Prevention in Atlanta, GA. He worked closely with inventors and prospective licensees to determine what IP, research, knowhow, and materials would need to be transferred and what level of government and licensee cooperation would be required to successfully transfer the technologies for live-saving research. He then drafted, negotiated, and executed IP, technology, and material transfer agreements.
Corporate Contract Experience – NDA, software licensing, outsourcing, employment, commercial equipment and property leasing, reseller and independent contractor, asset purchase, business acquisition, and other business contracts.
Admissions – Local IP Lawyer Atlanta -Patent Attorney near me
Richard lives in Decatur, Georgia and is an attorney licensed to practice law in the state of Georgia. He is also a registered Patent Attorney, licensed to practice before the U.S. Patent and Trademark Office.
We are a group of IP Attorneys  in Atlanta serving Atlanta and the surrounding Georgia cities – Patent  Lawyer Decatur, Druid Hills, Buckhead, Avondale Estates, Scottdale, Tucker, Stone Mountain, Athens, Macon, Warner Robbins, Brookhaven, Valdosta. Trademark Attorney, Trademark Lawyer, and IP Lawyer Atlanta.
To discuss patent attorney cost or patent lawyer cost-
If you are looking for a IP Attorney call Grell & Watson. (678) 383-4886
Patent: Patent Search, Provisional Patent, Non-Provisional Utility Patent, Patent Pending, USPTO, Patent Attorney Near Me
Trademark: Trademark Search, Trademark Application, Name, Logo, Business Name, Trademark Attorney Near Me
Patent Attorney in Atlanta, Marietta, Smyrna, Woodstock, Kennesaw, Cobb County
Grell & Watson Patent Attorneys, LLC
1870 The Exchange, Atlanta, GA 30339
(678) 383-4886
Email
Patent Lawyer Trademark Lawyer in Atlanta, Cartersville, Canton, Acworth, Cherokee, Bartow
Grell & Watson IP Attorneys.
37 Creekside Ct, Acworth, GA 30101
(678) 383-4886
Email
Call for a Free Consultation (678) 383-4886